Sometimes I need need a man around the house to help with things I can't take care of alone.  This week, a friend came over to replace my giant tv on the wall.  Rumor has it he packs a giant thing of his own so I knew he could handle getting his hands around it and getting it up.
As he stood there,  arms and legs straining, holding up the tv, veins popping in his arm, there wasn't much he was gonna do if I reached out and grabbed it.  I needed to see what the fuss is all about.
Let me say it was more than two handfuls ;).  Getting the tv up on the wall was done with haste as he realized his opportunity to capitalize on this "favor" he was doing me.  I smiled and obliged.  On my knees.
Then I scoured the web looking for a vid to remind me…and I found this moster cock video.  I wish all friends could be like this.
Call me now: your first 3 minutes are FREE at NiteFlirt.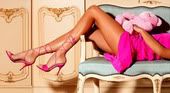 If you enjoyed this post, please consider to leave a comment or subscribe to the feed and get future articles delivered to your feed reader.