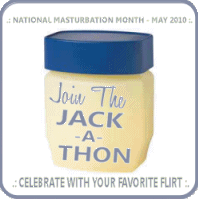 In honor of National Masturbation Month, and my demanding travel schedule, I will be focusing some upcoming blog posts on masturbation accessories.  You and I both know that a healthy cock is better for all of us and a healthy cock is one that is stroked and pumped regularly.  Please do your part to help society.

Maybe it's time you added to your collection of sinful toys…So that I know you are making productive use of your cock.  Much like a stable of studs, you should be in top performance.
Take a look at this one:
The Tenga Flip Hole Masturbator
Japanese engineering and ingenuity meet your penis in the Tenga Flip Hole from their series of masturbators. Packaged with three choices of lube in handsome and convenient vials, the masturbator itself incorporates different textures and chambers that you won't be able to resist sticking your (or a playmate's!) dick in. The Flip Hole takes its name from its unique design, flipping open length wise to allow for easy application of lube and even easier cleaning. Instead of simply trying to mimic a vagina, the Tenga focuses on providing the most sensation possible through the use of ribs, nubs, shifting parts, and vacuum pressure. Three prominent buttons on the outside of the device allow application of pressure and vacuum power to the head, shaft, or base of the penis (or for tight, Prom Night insertion). The three included lube samples are "mild" for a light, loose slide; "real" for something close to the real thing; and "wild" for a thick, vivid stroke.

If you enjoyed this post, please consider to leave a comment or subscribe to the feed and get future articles delivered to your feed reader.